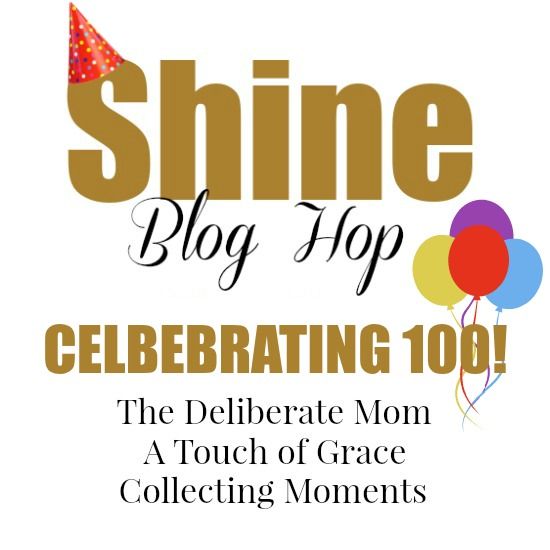 Welcome to an extra special SHINE Blog Hop!
Today The SHINE Blog Hop turns 100! No, we haven't been operating for 100 years - because, well, the Internet wasn't alive back then... but we're celebrating our 100th linkup party! YAY!
To commemorate this occasion, we thought we would bring you on a trip down memory lane... and if you're new here, stick around because we have fun stuff for you as well!
So grab your favourite beverage. Coffee, tea, wine... whatever you wish and let's get ready to party!
Before we start though, how about some music? What's a party without some ABBA?!
(If video doesn't play, click HERE)
Interesting facts about The SHINE Blog Hop
The SHINE Blog Hop was created on
May 8, 2014
by
Jennifer of The Deliberate Mom
.
The first ever SHINE Blog Hop had
63 posts
link up!
This is what the original SHINE Blog Hop logo looked like: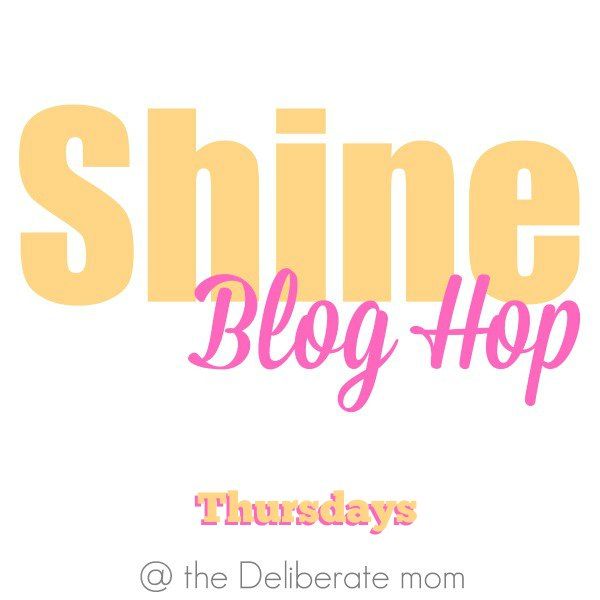 The hop grew quickly and Jennifer couldn't keep up, so starting with SHINE Blog Hop #6 she selected a different guest co-host every week. Also, the current SHINE Blog Hop host,
Tiffany (from A Touch of Grace)
was SHINE's first-ever co-host!
The SHINE Blog Hop grew like crazy but it was hard to have a different co-host every week, so effective March 2015, Tiffany became a regular SHINE Blog Hop host!
The hop continued to grow, so in SHINE Blog Hop #68, we did a call-out for a third regular co-host. Effective SHINE Blog Hop #70,
Maria (from Collecting Moments)
joined the SHINE Blog Hop hosting team!
An extra-special shout-out to Caroline from
In Due Time
! Caroline joined us for our first ever SHINE Blog Hop and has been linking up consistently almost every week ever since! Thank you Caroline! You can check out the first post she ever linked up
HERE
!
This is the SHINE Blog Hop team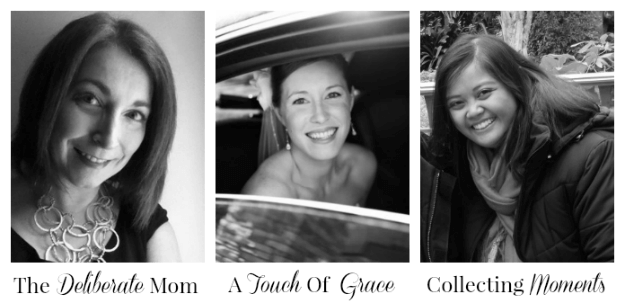 Instructions for the 100th SHINE Blog Hop!
Okay… so are you ready to party?!
1- To participate in SHINE's 100th birthday bash, we're asking you to link up the "about me" page of your blog. If you don't have an about me page, then we invite you to share a post that would make someone
fall in love
with you and your blog. The idea though is to meet and mingle.
2 – Say hi to one another and take a moment to enjoy the community that the SHINE Blog Hop tries to create. If you can't comment on their about me page, try tweeting it or sharing it on social media. Regardless, try to stop by a few people's pages and make sure to do the Chicken Dance with them... or start a conga line!
3- To REALLY
enhance the party atmosphere
, try to make your link-up photo be
a picture of you.
We want to see a whole bunch of our friend's faces in this party room. If you don't have (or you intensely dislike) photos of yourself – your blog's logo would be an acceptable substitute.
Everyone who links up to this blog hop will get the opportunity to win one of three $10 Starbucks e-gift cards! Please note, to be eligible for this prize, you need to link up your blog to the SHINE Blog Hop! This giveaway is open worldwide (as long as you can accept an e-mailed gift card, you can enter)! Make sure to read the giveaway rules below.
Your
loot bag
for this party… is a great big juicy hashtag!
#SHINE100
Knock yourselves out and have a great time.
Enter to win!
$10 Starbucks Gift Card (3 Winners)
Contest is open worldwide to individuals 18 years of age and older. Prize winner must be able to accept e-gift via e-mail. Starbucks Cards are accepted at most Starbucks locations in North America, including airport and grocery locations. Starbucks Cards can also be used interchangeably at most stores in Australia, Hong Kong, Ireland, Mexico, and the United Kingdom. This promotion is in no way sponsored, endorsed or administered by, or associated with: Starbucks, Facebook, Pinterest, Instagram, or Twitter. We hereby release Starbucks, Facebook, Pinterest, Instagram, and Twitter of any liability. Winner(s) will be contacted by email after the giveaway ends. Winner must respond within 48 hours or prize is forfeited. The Deliberate Mom, A Touch of Grace, and Collecting Moments will not be held liable for lost or mishandled gifts.
Party time!